GCSE RESULTS DAY: Students are celebrating yet another set of excellent results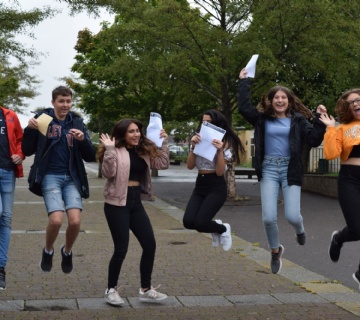 This is amidst the turbulence surrounding the unprecedented changes to GCSE gradings as they move from A*-G to 9-1; the reformed exams have more challenging content and are assessed differently.
We are delighted to have bucked the national trend achieving some amazing Science results; 79% of students achieved at least 1 grade 4+, broadly equivalent to a C grade, a significant increase from 2017. The Ofqual statement released on Monday suggested "there were more students than expected getting an unclassified result on higher tier combined science". This is not something we have experienced and we are delighted to have students reaching the highest possible grade in all science subjects. Josh Goacher achieved 9-9 in his combined science, Abbi Mustafa and Head Boy, Oliver Bridges, achieved 9s in Biology, Chemistry and Physics. Well over 90% of students achieved a 5+ in the individual Sciences with over 50% achieving 7+.
Maths is another area to celebrate with over 25% of students achieving 7+ (broadly equivalent to the old A grade). The college has maintained its significant strength in the proportion of students achieving the 'strong pass' benchmark of achieving a 5+ in English and Maths.
The college boasts a tradition of high academic achievement in the English Baccalaureate (EBacc). The benchmark for this qualification has been raised with the 'strong pass' EBacc now consisting of a Grade 5+ in English Language and Maths and a 5+ within History or Geography, two Sciences and a Language. Over 25% of students achieved the strong pass Ebacc. In previous years this would have included the equivalent of 4+ English/Maths and C+ in the other subjects. We saw a 5% increase from 2017 to 35% of students achieving the equivalent measure. We are particularly proud of this result as it continues our tradition of achieving excellent Ebacc results despite this becoming more rigorous.
We are very proud of all of our students, over 41% of students achieved at least one grade 7+ or equivalent A/A* grade in their results. There have been some outstanding performances, our top performing female student Abbi Mustafa achieved the equivalent of 10 A*/As which included 7 grade 9s; Maths, English Language, English Literature, Biology, Chemistry, Physics and History, grade 8 in French, an A*in RE and a distinction in PE. Oliver Bridges achieved 10 Grade A*/As which included 6 grade 9s; Maths, Physics, Chemistry, Biology, Geography and History, grade 8 in English Language. He also achieved A grade equivalents in French, RE and PE. Josh Goacher achieved 10 A*-Bs including 3 grade 9s; Maths and Combined Science, grade 8 in French plus 3 grade A equivalents in History, RE and PE, and B equivalents in English Language, Literature and Product Design. Further students with grade 9 successes are Nathan Finlay, Rosie Fowles, Aaron Kerby-Dickenson, Myah Ojla, Matthew Thomas, Kate Woolford and a special mention goes to Keaton Spry, Myah Ojla, Matthew Thomas and Alexandra Whyley who all exceeded expectations.
The Henry Cort Community College is again very proud of the students and excited about the futures that these results open up. Principal, Claudia Cubbage, said 'I am delighted with the results, students and staff have worked hard to achieve an excellent set of outcomes and I wish all students success in the future'.