Attendance and wellbeing
We are committed to working together to support the improvement of children's attendance and punctuality to school. There is a strong correlation between high attendance and high achievement as well as emotional health and positive relationships, and so we are committed to promoting good school attendance as an important part of giving children the best possible start in life.
We understand that absence is sometimes inevitable, and are keen to support families experiencing particular difficulties to prevent situations where school absence may become persistent. Research shows that absence from school, for whatever reason, can disadvantage a child by creating gaps in learning, which affect a child's ability to succeed. Schools are therefore required to monitor all absence thoroughly and to share attendance data with the Local Authority. It is for these reasons that we will contact you if we have any concerns regarding your child's attendance.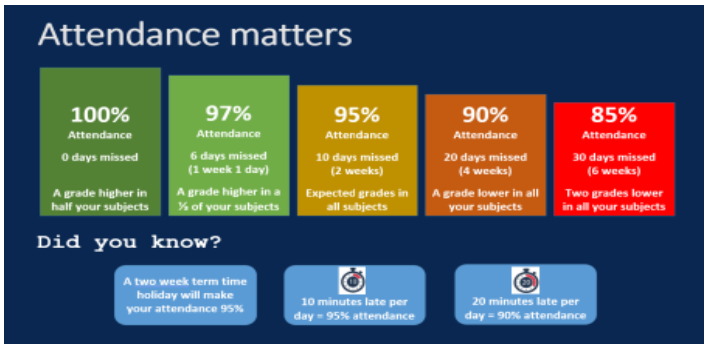 This outlines Hampshire County Council's statutory Code of Conduct March 2020 to promote your child's good attendance. Although the Hampshire Code of Conduct remains unchanged, from September 2022 schools can submit a Legal Intervention Team referral once a pupil has received 10 or more unauthorised absences in a 100-session period and it can be evidenced by the school that they have been unable to resolve attendance concerns, including through the issue of a penalty notice.
The law entitles every child of compulsory school age to an efficient, full-time education suitable to their age, aptitude, and any special educational need they may have. It is the legal responsibility of every parent to make sure their child receives that education either by attendance at a school or by education other than at a school. All schools in Hampshire aim to achieve a goal of 100% attendance. A Penalty Notice will be issued for any unauthorised absence where the pupil has been:
Absent for 10 or more half day sessions (five school days) of unauthorised absence during any 100 possible school sessions
Persistently late for up to 10 sessions (five days) after the register has closed
Persistently late before the close of the register, but the school has met with the Parent or Carer and has clearly communicated that they will categorise as 'unauthorised' any further lateness if, and when, the threshold of 10 sessions (five days) has been met.
To be clear, we will issue penalty notices/fines for cases of unauthorised absence (which may include family holidays) where it meets the criteria above.
Good school attendance is more important now than ever before. Students have missed so much time in school and it is vital that they attend, so we can continue to work with them to fill the academic and social gaps that they have resulted from the last two years. We thank you for your support.
For more information, please see the Hampshire County Council website and your school's attendance policy: https://www.hants.gov.uk/educationandlearning/behaviour-attendance-parents

If you do have any questions about your child's attendance, it is important that you talk to us so that we are able to support you.
Reporting unplanned and planned absences
If your child cannot attend college for any reason, you should contact the college office before 8:30am on the first day of absence giving your child's name, year and tutor group, reason for absence and expected day of return by either
* To access this feature you will need to go to the ClassCharts parent app and the report absence tab, this will display a list of absences that you have reported, once you have reported them. This includes when the absence took place, the reason for the absence and who acknowledged your absence report.
To report an absence:
click on the report new absence button.
enter the details of the reported absence into the form provided, please ensure you give details of absence as this enables us to track any trends. You can also include up to 5 files in your absence report as supporting evidence. To do this, click on the attach supporting evidence button and select the files of your choice.
click on the submit button to send your child's absence report.
the absence can be edited and deleted until it has been acknowledged by admin team.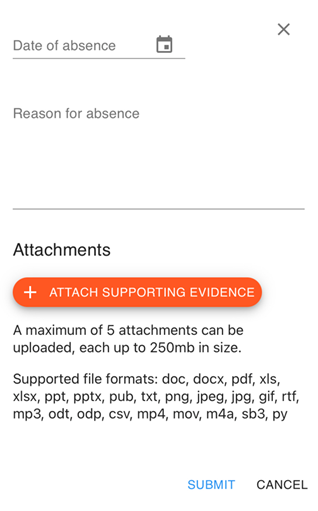 Holidays during term time - Over the last two years, Henry Cort and other secondary schools, for very good reasons, have been very reluctant to issue Fixed Penalty Notices (FPN) for holidays during term time. We are not, by law, allowed to authorise holiday during term time and we will be issuing a FPN for any holidays taken during term time.
Unplanned absence - if your son or daughter cannot attend college on any particular day due to illness then please contact the college before 08:30 using the contact details listed above.
Planned absence - if you know in advance that your son or daughter will need to be absent from college for any reason then please download the student planned absence request form . Complete and return paper copies to reception or email your form to attendance@henrycort.org
Unexplained absences - if your son or daughter is absent from college and we do not know why, you will receive a text message from the college by 10:30am asking for you to explain why they are absent. This message is part of our safeguarding policy and allows us to be sure that all our students are safe. These messages will always be sent if the absence is not authorised.
At Henry Cort, the Support and Progress Liaison Officer will contact you about issues with your child's attendance. Mr Lee works with students across all key stages in order to support with attendance concerns and queries.
Health and wellbeing
If students feel unwell, teachers should sign the student's planner and send them to the first aid room
The college will contact parents/carers if this is necessary. Students must not contact home themselves
If students require regular medication, parents will need to complete a medication form
We are not allowed to give other medication without parental permission
COVID-19
Please refer to the GOV website for the most up-to-date guidance on COVID-19: https://www.gov.uk/coronavirus

Please ensure that all contact details are kept updated throughout the year, every student must have a minimum of two emergency contacts. If we have not received notification of an absence and are then unable to make contact with you ourselves, this could trigger safeguarding procedures.
If you have any concerns regarding attendance or would like help supporting your child to attend college, please contact your child's tutor in the first instance.
UPDATED: 25 January 2023