Uniform
College uniform is available from Skoolkit and Tesco Uniform Embroidery Service. Queries, orders, returns or complaints should be directed to the suppliers.
Please note that this uniform is used all year round.
BOYS & GIRLS
College tie in House colour
Daring - Red, Invincible - Green, Triumph - Yellow and Victorious - Purple

College blazer with logo

College v-neck jumper with logo (optional) - Hoodies or cardigans are NOT acceptable at any time and will be confiscated.

Black tailored trousers - Trousers must be full length, touching the heel. Skinny/fashion (eg with zips), leggings, jeggings, jersey material trousers and jeans are NOT acceptable.

Flat black shoes that can be polished - NO trainers, suede, canvas or sports branded shoes i.e Nike, Adidas, Converse or Vans.

Black, dark grey or white socks
GIRLS - Black Skirts must be knee length, if it does not reach the floor when kneeling it is too short. Jersey and lycra material are NOT acceptable.
BOYS - Black tailored shorts in extreme weather conditions ONLY when normal uniform is relaxed.
PE / DANCE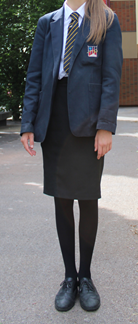 College PE shirt with logo
Navy blue PE shorts
Navy blue PE leggings or training trousers with Henry Cort logo, this is optional and can be worn as an alternative to shorts. NO alternative is acceptable.
Sky blue football or white or black sport socks
Dark coloured sweatshirts are permitted during winter at the discretion of class teacher (NO leggings)
Durable trainers with suitable support (NO plimsolls or canvas fashion shoes).
Plain outdoor coats can be worn to and from college over blazers (denim and hoodies are not acceptable) - coats must be removed inside college buildings.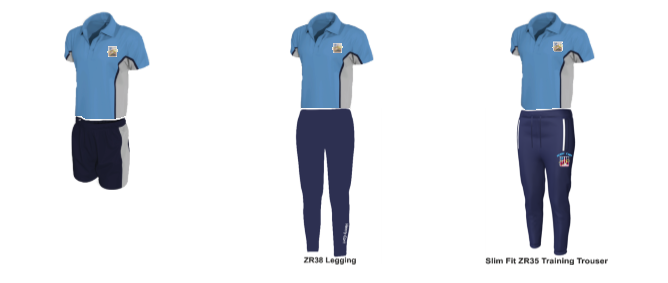 Unacceptable

Acceptable

Nose studs/retainers
Eyebrow, extra ear or tongue piercings
No noticeable make up
Nail varnish or acrylic nails and nails should be of a natural length
No unnatural hair colours or streaks
Extreme styles, grade 1 or shaved patterned hair
No jewellery apart from 1 plain stud per ear and watch

1 plain stud per ear (in the lobe)
Watch
Identity/medical bracelet
Discreet make up– students will be asked to remove overly obvious makeup
Natural hair colours only
Page updated: 26 September 2019