Travelling to college
There are lots of vehicles and large coaches coming onto and leaving the college roadways both in the morning and the afternoon when you are trying to get into or out of college. These routes into and out of college have been planned to assist you and reduce congestion and keep everyone safe. If you:
have a lift to and from college, keep yourselves safe by obeying the 'Rule of the Road' and follow any signs, always look to check for vehicles before crossing
walk to and from college, use the walk to college route via the tennis courts, by doing this you are helping us to reduce pedestrian congestion on Henry Cort Drive
ride into college use the ride to college route via the tennis courts, as soon as you come onto the college site get off your bike and push it up to the cycle racks, when you leave college do not get on your bike until you have left the site. Your bike must be roadworthy with working breaks and lights for the winter. You must wear a cycle helmet and have a bike permit. Scooters are not permitted. Failure to do so will result in you not being allowed to bring your bike onto site. You can apply for a bike permit using the following form: https://forms.gle/JXigpbxf21dFU5Ff6
Designated cycle and walk to college routes: All students who walk or ride to college will need to enter the college via the back gate and ensure you arrive at your designated time. Once you come onto the college site walk your bike, do not ride through the site. It is important that if students need to cross Hillson Drive they cross via Nashe Way.
TRAVELLING BY CAR
It is important that your parent/carer voluntarily follows the one-way system and come up Hillson Drive and turn into Wynton Way or Thorni Avenue and then down Fareham Park Road when leaving. Cars should not turn into Henry Cort Drive. Please make sure you are dropped off in Hillson Drive or use 'park and stride' drop off points. These are located at Nashe Way, Highlands Road shopping car park, Oak Road and Deviation Line car park, as shown in the map overleaf.
By using the suggested 'park and stride' drop off points, this will help to:
Drastically reduce the amount of traffic and congestion for residents within the vicinity of the college
Help reduce pollution to the local area
Create a safer environment for students on their route to and from college
Improve your health and wellbeing by encouraging an increase in your daily step count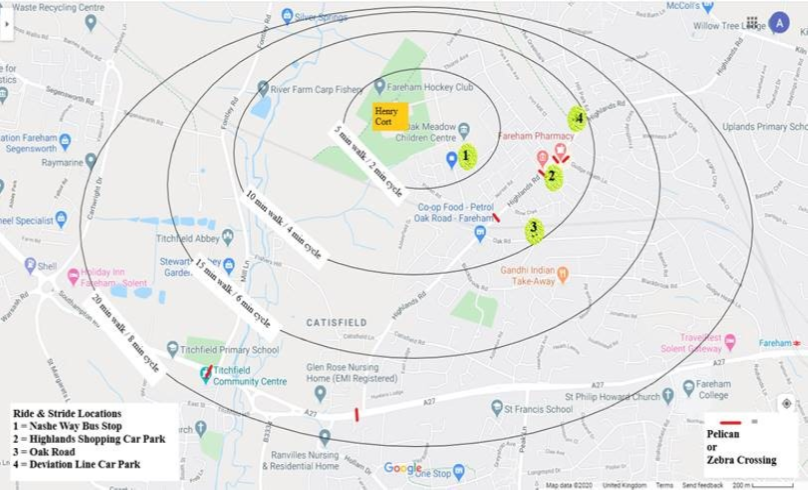 TRAVELLING BY BUS
The Passenger Transport Group is responsible for providing transport assistance to school for entitled students. Parents can apply for transport through the online Transport Portal and should not be completing paper forms. Please visit Passenger Transport Group's website which will provide you with information on eligibility and the link to the application portal: https://www.hants.gov.uk/educationandlearning/schooltransport/apply

.
The Whiteley buses are operated by Lucketts, and it is vital that students get on the correct bus and students trying to board the wrong bus may be refused travel, and it will be parental responsibility to get their child(ren) into college.
Routes and bus stops for buses A-G can be found below.
In addition to Passenger Transport, we run a minibus service for students who have bought seats and live in the vicinity of the areas listed below. This service is currently full, however if you would like your child to use one of these services in the future, please apply using our College Bus Application Form.
Bus F
Bus H

Fire station
Redlands Lane just before traffic lights
Bishopsfield Road
Wild Ridings / Lyden Close
Henry Cort

West Hill / Coach Lane
Coach Hill / Frog Lane
Coach Hill / St Margarets Lane
South Street bus stops
Longmyd Drive / Purbeck Drive
Henry Cort
Termly fee for 2021-22 is £199. Annual fee for 2021-22 is £565.
Once a seat has been confirmed, fees can be paid via Scopay. We issue bus passes on a termly basis, and unfortunately we will no longer be able to provide transport in a new term unless payment is up to date for the previous one. Please note that link codes for the Parent Payment System will be issued during the first week in September for new parents.
LATE BUS SERVICE
We have invested in an additional late bus service to allow students to attend after college support sessions and clubs. The service leaves college at 16:05 Monday to Friday stopping at the following locations dependent on the students on board and is available for all students:
Ranvilles Lane
Titchfield bypass
Segensworth, Gardenia Drive
Park Gate
Whiteley, Yew Tree Drive
Whiteley, Lipizzander Fields
Whiteley, Timor Close
Whiteley, Sheridan Gardens
Whiteley, Buchan Avenue
Whiteley, Hemmingway Gardens
Whiteley, Primary School
Whiteley, Solent Hotel
Whiteley, Solent Business Park
Whiteley, Bluebell Way Roundabout
UPDATED: 19 November 2021