Ready to Learn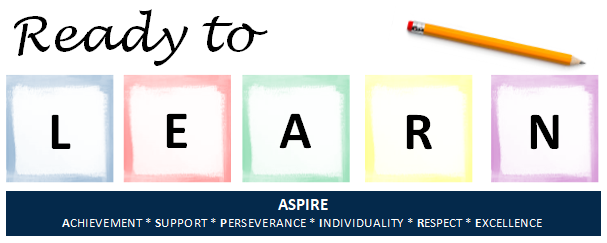 Our commitment to students:
If another student slows down or disrupts learning, we will not tolerate such behaviour
We will educate those students who are disrupting learning, so there are no repeated disruptions and all students can thrive
We are striving to ensure that students never have their lessons disrupted, enabling teachers to teach outstanding lessons and for students to be able to work hard towards success
Students deserve disruption-free learning every minute of every lesson.
There are 8 non-negotiable behaviour expectations*. Students must:
Arrive to college and lessons on time and properly dressed (be punctual to tutor time and all lessons)

Have the right equipment for the lesson (have your own full Ready to Learn kit every day)

Follow the seating plan set for your class, all instructions and the one way system (understand that these are for your benefit)

Use respectful and appropriate language (no swearing, no derogatory language, no offensive comments or actions e.g. racist, sexist, homophobic, or discriminatory language and/or gestures)

Treat everyone with respect (do not cause harm or hurt whether in person or online)

Listen attentively (do not speak while your teacher or peers are talking)

Respect other students' right to learn (do not disrupt or distract either in class or online)

Take an active part in every lesson (do your very best to complete the task set)
*NB: These expectations are displayed in all classrooms around the college.
Under no circumstances should students bring the following items onto the college site:
No items that distract learning of others - e.g. fidget spinners
Knives or weapons or anything that could potentially be used as a weapon or risk the health and safety of students and staff
Illegal drugs and paraphernalia - all medicines should be stored in the first aid room, students must not carry prescription medications
Alcohol
Tobacco, cigarette papers, filters, lighters, matches, e-cigarettes or any other smoking paraphernalia, the college is a no smoking site
Fizzy or energy drinks - students are permitted water bottles in lessons

Students are banned from using mobile phones, earphones, i-watches and similar electronic devices on the college site. If they are used at any time they will be confiscated, and we may ask parents/carers to collect them.
All students can have access to a telephone in an emergency via student reception. Any urgent messages for a student will always be passed on by reception at the earliest possible opportunity.
If students are seen with earphones or ear buds we will deem that they are connected to and using their phone, both the phone and earphones will be confiscated. If a mobile or similar electronic device is confiscated, they are logged and kept safe in Student Reception.
PLEASE NOTE: Legally, under DfE guidance the college has the right to search for and confiscate banned items without consent.
PUNCTUALITY AND ATTENDANCE
Students should arrive in college in plenty of time to get to tutor by 8:25am. Gates will be locked at 8:20, after 8:20 students must sign in at reception. If students cannot attend college for any reason, parents/carers should contact the college office before 8:30am on the first day of absence via ClassCharts or 01329 843127 and leave a message on the 24-hour absence line.
What happens if my child is ill at college?
We have full-time first aid cover, the team are available to deal with minor ailments and accidents which occur in college as well as to receive and administer any prescribed medicines which have to be taken during college hours.
These medicines may only be administered if they are accompanied by full written instructions which include student's name, type of medication, dosage and frequency. Where possible medicines should be given at home, before and/or after college. Any student needing to take a prescribed medicine must bring it to the college office at the beginning of the day, return to the office at the appropriate break-time to take the required dose and collect the medicine at the end of the day.
A record of the administration of prescribed medicines will be kept. Students are encouraged to be responsible for their own inhalers and keep them with them, although a labelled spare should be retained in the First Aid Room. Students must not carry medication on them, this includes paracetamol and ibuprofen.
UPDATED: 30 August 2023