Ready to Learn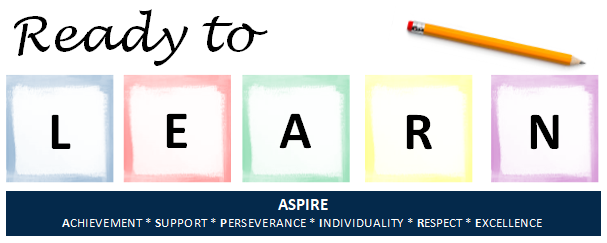 Our commitment to you:
If another student slows down or disrupts your learning, we will not tolerate such behaviour
We will educate those students who are disrupting learning so there are no repeated disruptions and all students can thrive
We are striving to ensure that you never have your lessons disrupted, enabling your teachers to teach outstanding lessons and for you to be able to work hard towards success
You deserve disruption-free learning every minute of every lesson.
There are six non-negotiable behaviour expectations. Students must:
Arrive to lessons on time and properly dressed - students should arrive in college in plenty of time to get to tutor by 8:25am. Gates will be locked at 8:20am, if you arrive after this time, you must sign in at reception. Students who are repeatedly late may trigger a county penalty fine
Have the right equipment for the lesson - pen (black and purple) x2, pencil, eraser, sharpener, ruler, protractor, pink and green highlighters, calculator, exercise book and student planner
Follow the seating plan set for your class
Use appropriate language at all times - no swearing, racist or homophobic comments
Do not speak while your teacher or peers are talking
Respect other students' right to learn - do not disrupt or distract
These expectations are displayed in all classrooms around the college.
Under no circumstances should students bring the following items onto the college site:
No items that distracts learning - e.g. fidget spinners
Knives or weapons - anything that could potentially be used as a weapon or risk the health and safety of students and staff
Illegal drugs and paraphernalia - all medicines should be stored in the first aid room
Alcohol
Tobacco, cigarette papers, filters, lighters, matches, e-cigarettes or any other smoking paraphernalia
Students are banned from using the following items on the college site:

No mobile phones, MP3 players and similar electronic devices - if they are used at any time they will be confiscated and we may ask parents to collect them. All students can have access to a telephone in an emergency via Student Reception during break times and after college hours. Any messages for a student will always be passed on by reception at the earliest possible opportunity. If a mobile or similar electronic device is confiscated, they are logged and kept safe in Student Reception.

PUNCTUALITY AND ATTENDANCE - You should arrive in college in plenty of time to get to tutor by 8:25am. Gates will be locked at 8:20, after 8:20 you must sign in at reception. If you cannot attend college for any reason, parents/carers should contact the college office before 8:30am on the first day of absence on 01329 843127 or leave a message on the 24 hour absence line. When you return to college, you must bring a note in your planner from your parent/carer explaining your absence.
ILLNESS, ACCIDENTS AND MEDICATION - If you feel unwell, your teacher should sign your planner and send you to the first aid room. The college will contact parents if this is necessary. You must not contact home yourself. If you require regular medication, your parents/carers will need to complete a medication form, which can be completed on the forms page in the parents section of the website. We are not allowed to give other medication without parental permission.
Page updated: October 2021