Ryan Badger attempts to spell 'idiosyncrasy' to win Year 8 Spelling Bee Trophy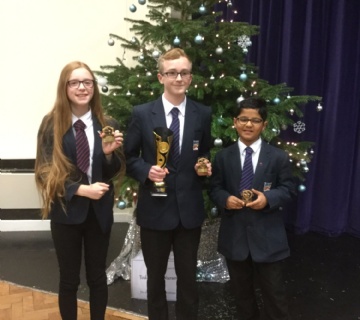 Three students attended the first area 'Spelling Bee' held at Fareham Academy competing with Bay House School, Portchester Community School on Tuesday 28 November 2017.
Akshat Goel 11, Lucie Tarr 12 and Ryan Badger 13 attended with fabulous and enthusiastic support from their families. The students represented Henry Cort in the Year 7 and Year 8 categories. A spelling bee is a competition in which contestants are asked to spell a broad selection of words with a varying degree of difficulty.
They all did themselves (and us) proud. Lucie tackled some very difficult words early on; Akshat made it through to the final and was pipped to the post by just one word and finally Ryan, despite being in the largest group, made it through to the final attempted to spell 'idiosyncrasy' and won the Year 8 Trophy!