Students battle it out in MP's school debate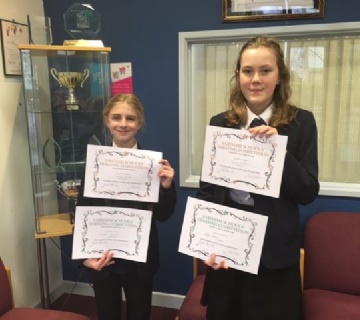 Students from schools across Fareham put their wits against one another in a feisty debate challenge set by Fareham MP, Suella Fernandes.
Six groups of two Year 8 students went head-to-head in the contest at Fareham College, voicing their views on various topics. The judges were the Mayor of Fareham, MP Suella Fernandes, the editor of 'Fareham News' and the principal of Fareham College.
The judges were impressed by Lilly's dynamic and thought provoking start to her speech for the motion that 'the media is too powerful'; her eye contact and poise were also noted. The judges appreciated the fact that Kiara interacted with the audience - showing her confidence and adaptability during a speech. Lilly Mizen and Kiara Taylor, managed to walk away in third place.
Ms Annandale commented "The girls were extremely nervous beforehand, but once they began their speeches, they settled into it and began to enjoy themselves. By the end, their first comments were, 'When can we do this again?'
It was a really positive day - the fact that we only had a month to prepare shows how committed the girls were. I was proud of them and we are continuing on with our Debating Club in readiness for next year."
Claudia Cubbage, Principal said, "Debating is something I am passionate about developing at Henry Cort. All Year 8 students are studying Oracy as the skills are transferable, help with communication and develop confidence. I hope to see us able to enter more teams in competitions over the next few years."