Henry Cort celebrates significant student success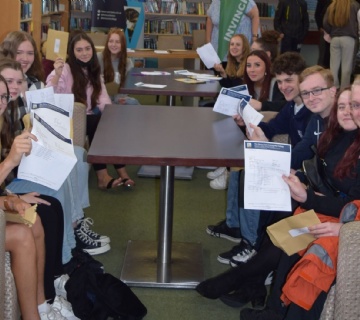 We are pleased to report some outstanding achievements by our students in their GCSEs and other qualifications this summer. We are delighted with the results that our students have achieved; this cohort has endured two years of disruption to their education, receiving results last year based on teacher predicted grades and this year on teacher assessed grades. It cannot be underestimated the impact this has had on both students and staff, yet the cohort has achieved a set of results to be proud of.
This year, following the cancellation of formal exams, grades were awarded through a process of teacher assessed grades, against a national standard, approved and awarded by the exam boards. The government is not publishing performance data for any schools or colleges this year due to the varying impact of the pandemic. The results that students have achieved are testament to the hard work and dedication of both students and staff and show the sustained improvements that the college has made in recent years. We have some amazing outcomes, following the implementation of a rigorous and robust moderation process to generate our teacher assessed grades, which have been endorsed by the exam boards.
Special mention goes to Abigail Balsdon, Rio Bardouille, Bradley Garner, Melania Greentree, all of whom significantly outperformed their target grades despite the disruption caused to their education due to the pandemic. Top performers were Michael Thomas who achieved straight 9s in all subjects, William Backhouse, Dylan Bidiscombe and William Campbell all averaged grade 9s across their subjects. Grace Park overcame significant adversity to achieve similar scores.
The top performers in Year 10 in PE and RE, both Sophie Howe and Joe Waldron significantly outperformed their targets. Sophie Howe got a 9 for RE, and distinction* for her NCFE and also separately achieve an AQA unit award of an A*. Other top achievers include, Alex Downer, Lily Burnham, Morgan Etherington and Harmony Storey who achieved top grades in both subjects.
The Henry Cort Community College is again very proud of the students and excited about the futures that these results open up.
"We are immensely proud of all the work and achievements of our students, especially after such a difficult and disrupted couple of years. Our teachers have worked tirelessly to ensure students are all able to progress onto further education and study, and we look forward to seeing what they will achieve in the future and wish them well." Ms Cubbage - Principal