Henry Cort celebrates sustained improvements in GCSE results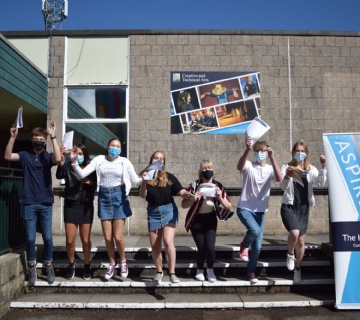 We are delighted with the results that our students have achieved; they now have the grades that they truly deserve. We have made our feelings known throughout about the inequalities of the process which was supposed to be used to calculate grades by exam boards and are delighted that common sense has finally prevailed.
This is the first cohort, as Principal, that I have seen through from year 7 to 11 and we were expecting great things of them after achieving 13% grade 9s in RE early entry last year compared to 7.4% nationally. The results that they have achieved are testament to the hard work and dedication of both students and staff and shows the sustained improvements that the college has made in recent years. We have some amazing outcomes, we implemented a rigorous and robust moderation process to generate our Centre Assessed Grades, 45 (1%) of these were moved up by the exam boards.
Special mention goes to Deputy Head Boy, Josh Efford, achieving straight grade 9s in all subjects. Elouise Kerby-Dickinson and Isabelle Kimberley also achieved 9s in all core subjects. Overall, 70% achieved L4+ in both English and Maths, with 56% achieving 5+ in both. We had some fantastic early entries with Grace Park, Michael Thomas and William Campbell achieving grade 9s in all their GCSEs taken in Year 10.
The Henry Cort Community College is again very proud of the students and excited about the futures that these results open up. Principal, Claudia Cubbage, said 'I am delighted with the results, students and staff have worked hard to achieve an excellent set of outcomes and I wish all students success in the future'.