GCSE RESULTS 2019: Henry Cort celebrates another significant increase in GCSE results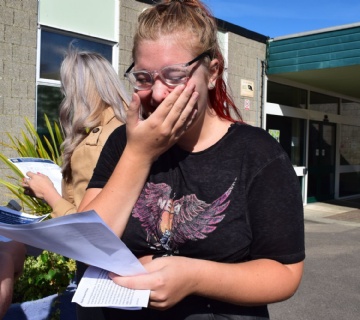 We are delighted at this year's outcomes for Henry Cort students. They have worked incredibly hard and we have seen a 10% increase from last year in the number of students gaining a 4+ in both English and maths.
We saw a significant improvement in English language, up 8%, and literature up 9%. 62% of students achieved a grade 5 strong pass or better. Nearly a quarter of students achieved a 7+ in English equivalent to an A grade.
Maths, which has been a strength of the college for many years, remained strong, increasing by 5% to 76% achieving grade 4+, while 56% achieved 5+ and, once again, over 20% achieved 7+.
The science results, which showed a massive increase last year, remained strong with 71% of students achieving 2 or more grade 4s. In the individual sciences, all students achieved a grade 4+ and a third achieved grade 7+.
Creative and technical arts performed particularly well with 86% of art and dance students achieving a 4+, with textiles achieving 81%. In fact, in these subjects almost a third of students achieved a 7+. Drama, again, saw good results with 73% achieving 5+ and 30% 7+.
PE achieved 88% at 4+, 71% 5+ and 30% 7+ (equivalent) and sports science achieved 90% 4+ and 76% grade 5+ and 47% 7+ (equivalent).
One of our biggest curriculum successes is computer science who achieved 100% 5+ and 63% 7+.
Individually our highest attaining student is Rowan Browning achieving 8 grade 9s, 3 grade 8s and a Distinction. Next up, Sammy Westmuckett achieved the highest progress score, smashing her targets by an average of 2 grades. Other notable student superstars include Will Steer, Maddie Scappaticci, Megan Clarke and Jess Sutton for progress, Ethan Farrell, Ethan Maddox-Hinton, Ben Campbell, Lauren Evans and Josh Shilling for high attainment.
The Henry Cort Community College is again very proud of the students and excited about the futures that these results open up. Principal, Claudia Cubbage, said
'I am delighted with the results, students and staff have worked hard to achieve an excellent set of outcomes and I wish all students success in the future'.