BREAKING NEWS: Year 9s impressive 7-0 thriller sees them through to the last 32 in ESFA National Cup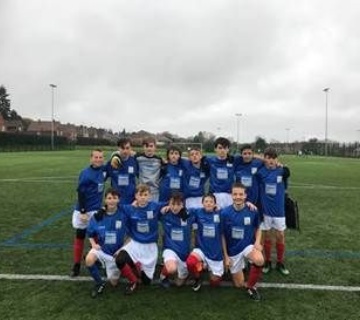 Following the last report, we are proud to report that a team of Year 9 boys from The Henry Cort Community College are through to the last 32 and are the last remaining Hampshire School in the National Cup after another thrilling match on Monday 10 December against Charters School which they won 7-0.
The Charters School team travelled to Henry Cort to play the 5th round English Schools Football Association (ESFA) National Cup tie.
Henry Cort got off to a flying start when Ethan Gee's solo run saw him go past 3 players before he calmly placed the ball in the bottom corner to put us 1-0 up. Charters came close to levelling the game but Toby Steward was in fine form between the sticks and kept out everything that was thrown at him. It was soon 2-0 after Ben Costley won a crunching 50/50 tackle on the half way line and then released Gee who ran through and chipped the GK. Tom Walter made it 3 before the break.
In the second half it was much of the same and Gee deservedly bagged his hat-trick and soon after Tom Walter put the game to bed with his second after he slotted home the cross from Elliott Simpson. It was then Walters turn to get his hat-trick after another impressive solo run from Simpson. Ben Costley rounded off the exceptional team performance when he rocketed home the seventh goal in the final minute of the match. Elliott Simpson ran the show with 5 assists and awarded man of the match for his performance.
Mr Plomer, PE teacher, has praised the team spirit and attitude, "We were dealt a couple of injury blows before kick off but the lads that stepped in were exceptional and it shows what a talented year group they are. In the early stages the game was much tighter than the scoreline suggests and Charters School came close to scoring, however the boys relentless attacking and clinical finishing was the clear difference."
The players were: Toby Steward (GK), Joe Davies, Toby Hancock, Ben Evans (C), Harry Cook, Dylan Sibley, Ben Costley, Ethan Gee, Elliott Simpson, Billy Campbell, Tom Walter, Ryan East and Logan Hart.
Ms Cubbage, Principal, said: "I am extremely proud of all the boys and their continued effort and hard work paid off with a much deserved win."
ASPIRE
ACHIEVEMENT * SUPPORT * PERSEVERANCE * INDIVIDUALITY * RESPECT * EXCELLENCE