LATEST NEWS: Year 9 Boys last remaining Hampshire School Team in ESFA NAtional Cup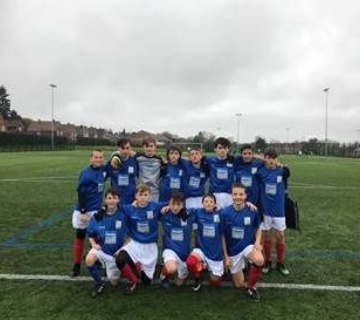 We are proud to announce that a team of our Year 9 boys are the last remaining Hampshire School in the National Cup after a thrilling match on Wednesday 28 November against Weydon School which they won 3-0.
The team travelled to Weydon School in Aldershot to play their 4th round English Schools Football Association (ESFA) National Cup tie.
The weather was horrendous with strong winds and torrential rain however fortunately the 3G facilities were excellent and the game went ahead. Henry Cort took an early lead when Elliott Simpson was put through 1 on 1 from the half way line and calmly slotted the ball into the bottom corner. Before half time it was 2-0 after Max May delivered a pin point free kick and Ben Evans met the ball to volley home.
In the second half the rain continued to pour, however the boys continued the pressure and were rewarded when Tom Walter smashed in the third and final goal to see the boys through to the 5th Round. The 5th round draw has been made and as the only remaining Hampshire school in the competition the boys will face Charters School on Wednesday 12 December at The Henry Cort Community College.
Mr Plomer, PE teacher remarked "I am so proud of the boys; they were always in control despite the horrendous weather. I am looking forward to seeing how far the boys can take this."
The players were: Toby Steward (GK), Joe Davies, Toby Hancock, Ben Evans (C), Harry Cook, Max May, Ben Costley, Elliott Simpson, Callum Simmonds, Ethan Gee, Billy Campbell, Tom Walter and Leo Kirby.
Ms Cubbage, Principal, said: "I am extremely proud of all the boys and their continued effort and hard work paid off with a much deserved win."