Master Sculptor Donald Brown delivers an inspiring masterclass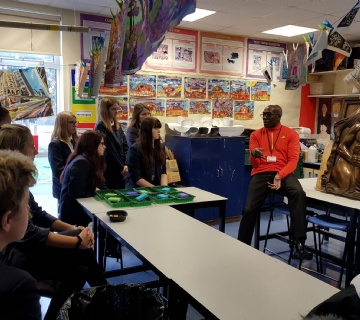 A group of Year 10 students were engaged and inspired by a sculpting masterclass delivered by Donald Brown, Master Sculptor and CEO of The Global Gallery Limited on Wednesday 15 November.
World renowned sculptor Donald Brown has dedicated his varied career as an artist and globally conscious entrepreneur to humanising art for all people to understand and appreciate by making his works relevant to real life issues.
The creation of his latest masterpiece title "A Sporting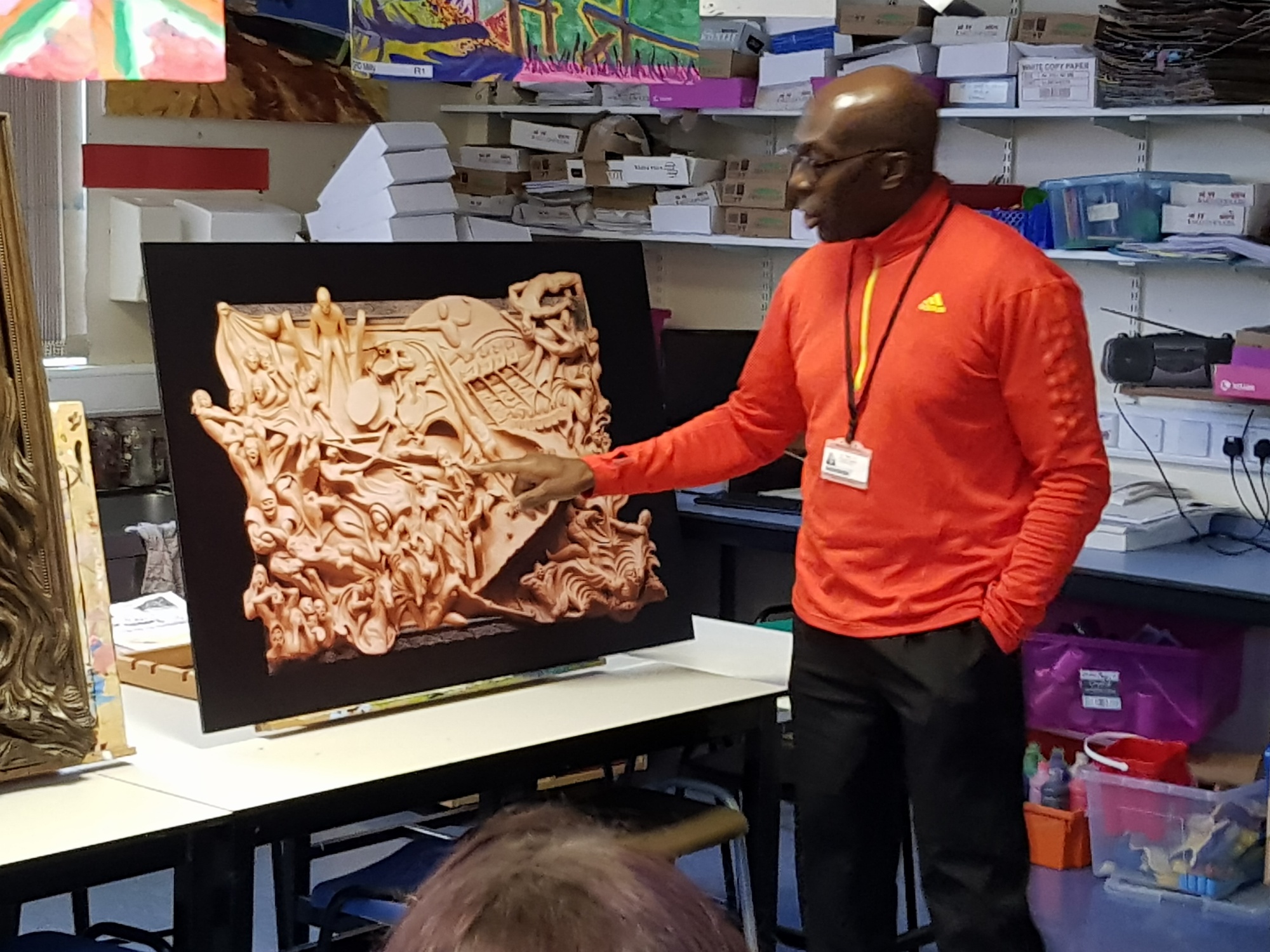 Chance for Peace" created over a period of four years, is the flagship for a Personal Peace Initiative spearheaded by Donald. The sculpture that blends the two great passions of his life, art and sports, features a dynamic interaction of people engaged in various sporting activities and also functions as symbols of human behaviour and ideals. His masterpiece is used as a vehicle to promote Personal Peace and the positive principles that are taught through sports, such as respect, discipline, humility and honesty.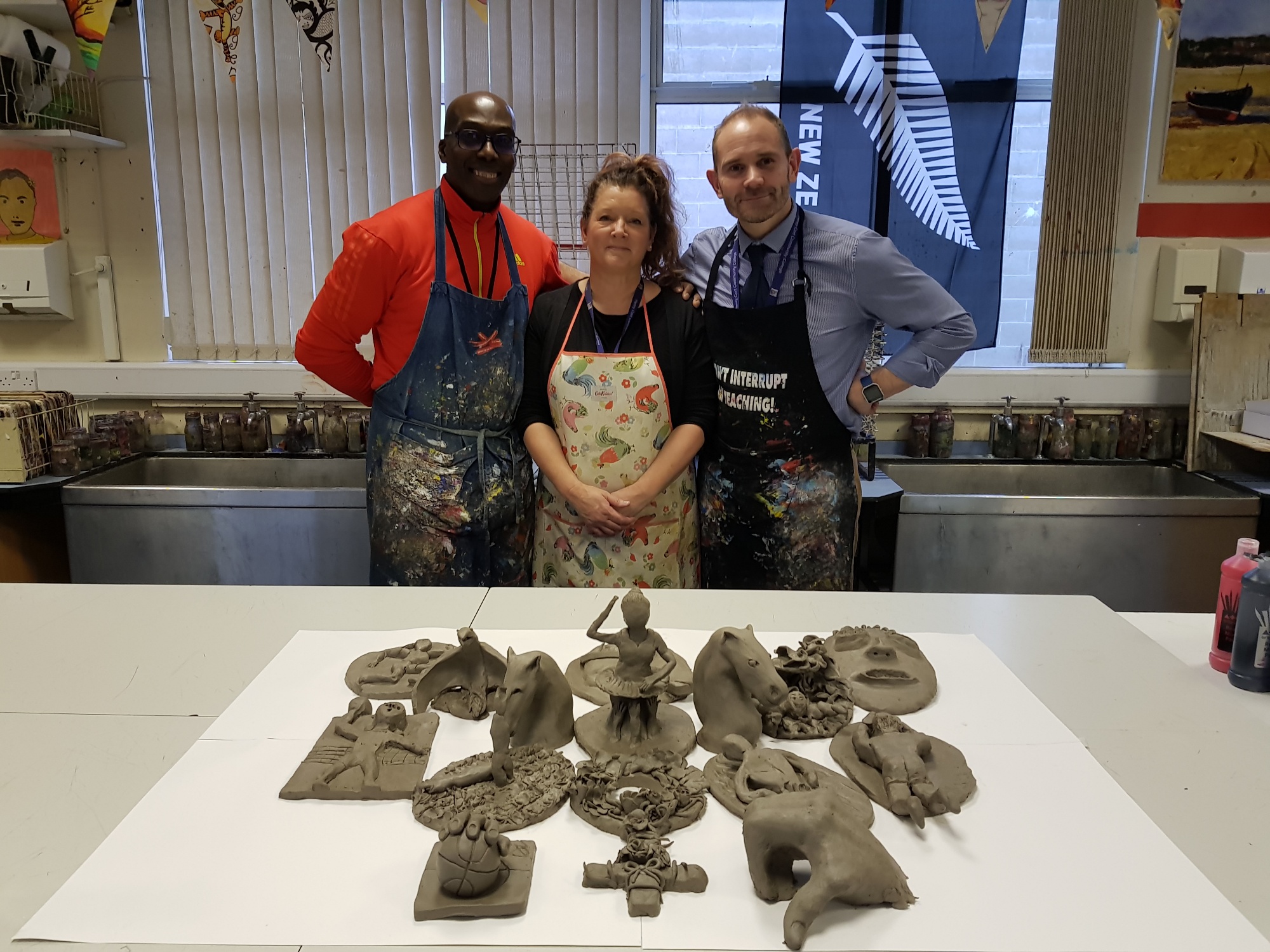 A replica of his masterpiece was used to lead an inspirational masterclass to a group of 14 Year 10 students to help them gain first-hand understanding of the sculptural process used. They worked with traditional handheld tools to create their own unique clay sculpture. Donald got the students working together and thinking creatively and they were encouraged to put their work into context.
Ms Claudia Cubbage, Principal, said: "It was really pleasing to see the students buzzing after completing their own contextual sculptures."
Donald Brown remarked "It is always a pleasure when I am fortunate to work with students who are so well disciplined and keen to learn. The sculptures that the students produced were a testament to them listening and applying a positive meaning to their works. A fantastic day, great students and wonderful staff."
In addition to the masterclass, Donald was invited to join the Class of 2017 Presentation Evening as guest speaker. During the evening, an inspiring speech was given about where he came from and his journey so far.
He introduced his Patrons Plan which offered parents the opportunity to be purchase a print of the 'A Sporting Chance for Peace' Sculpture. The Patrons Plan will allow 50 parents to purchase one print each at a cost of £35.00 each.
Their purchases would guarantee an Open Edition replica of the sculpture for Henry Cort completely free of charge. All 50 parents would become the Patrons of the sculpture for The Henry Cort Community College with their names included on the Patron's Plaque Honour Roll placed permanently by the sculpture.
You can watch and listen as Donald explains some of the meaning within the sculpture. https://youtu.be/rKN2j3hu3vo.
For more information on the global unveiling of this sculpture: https://theglobalgallery.com/wp-content/uploads/2017/10/Introduction-TGG-Brochure-Oct-17-for-TGG-WS.pdf
If you would like to become one of our 50 Patrons and help us secure a replica of this sculpture to inspire present and future students, email admin@theglobalgallery.com with 'Patron for Henry Cort CC' in the subject line.