Henry Cort Fantastic 2017 GCSE outcomes significantly above Hampshire and National outcomes yet again!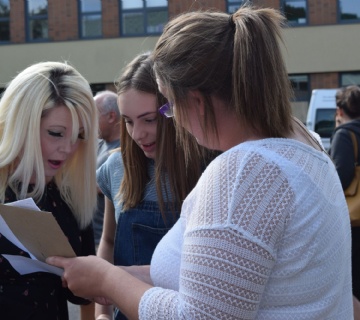 Students at The Henry Cort Community College are celebrating an excellent set of results. This is amidst the turbulence surrounding the GCSE changes and shifts in grade boundaries in a number of the key subjects. The unprecedented changes to English and Mathematics means that they cannot be directly compared to previous years as the exams have more challenging content and are assessed differently.
Last year 67% of our students gained the 'gold standard' of 5 higher grades at A*-C including English and Mathematics to achieve the college's best ever results. We have, again, achieved equivalent results of 5+ GCSEs including the new 4+ measure in English and Mathematics (standard pass). The college has continued with its steady improvement and we are proud that 50% of our students have met the new 'strong pass' benchmark of achieving a 5+ in English and Mathematics.
The college boasts a tradition of high academic achievement in the English Baccalaureate (EBacc). This year the benchmark for this qualification was raised with the EBacc now consisting of a Grade 5+ in English Language and Mathematics and a C+ within History or Geography, two Sciences and a Language. Last year this would have included the equivalent of 4+ English/Mathematics. Over 30% of our students achieved the new Ebacc measure. We are particularly proud of this result as it continues our tradition of achieving excellent Ebacc results despite this becoming more rigorous.
In 2016 25% of our students achieved at least one A*-A grade, or equivalent, we are delighted that this year this figure has increased to over 58% with 330 top grades awarded.
We are proud of all of our students, including Head Boy, Kieran Elliot, who achieved 12 A- A* or equivalent including the new converted Grade 9 within all three of the new GCSE examinations: Mathematics, English Language and English Literature. Georgia McNee achieved 11 A-A* grades including a Grade 9 in English Language and Mathematics and A* in all other EBacc subjects. Other students who achieved notable success are Joshua Miller and Bradley Ferrand, with Joshua achieving 11 A*-A grades or equivalent and Bradley 10 A*-A grades or equivalent.
We had a number of other Grade 9 successes with Max Robinson in English Language and Kaushal Vaisnav in Mathematics.
Special mention goes to Tyler Beech who achieved 11 A*-C including a Grade 7 in Mathematics and 'A' grades in Additional Science, Citizenship and P.E. Tyler underwent several serious operations during the period of his exams.
The Henry Cort Community College is again very proud of the students and excited about the futures that these results open up. Principal, Claudia Cubbage, said 'I am delighted with the results, students and staff have worked hard to achieve an excellent set of outcomes and I wish all students success in the future'.