Why are we called Henry Cort?
Fareham Park Comprehensive School opened in 1972 on this site and as a result of the reorganisation of Fareham's Secondary Schools, in September 1984 the school became known as it is today, The Henry Cort Community College.
Why are we called Henry Cort?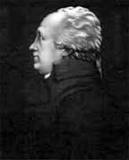 Henry Cort made major enhancements to the ironworks, to improve the quality of wrought iron, which in England was of poor quality at this time. To find a way of producing iron cheaply he patented processes for 'rolling' in 1783 and for 'fining' or 'puddling in 1784. These inventions proved enormously successful, and were quickly adopted all over the country, including the navy who stipulated that all iron produced had to meet Cort's standards.
The current college logo was designed in 1984 by former Head of Year and teacher of ceramics, Ken Foss. Inspired by the iron processes that Henry Cort used at the time, the logo includes his initials, iron tongs and the fire used to produce iron.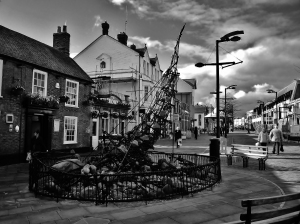 The £1.6M project to revitalise Fareham's town centre was inspired by Henry Cort. The scheme created a new tree-lined, pedestrian West Street, featuring specially crafted gateways and handmade metal street furniture; a bandstand in the town square with handcrafted metal work; and a new children's play area containing play sculptures by artist blacksmiths.
All the sculptures are constructed of wrought iron, as opposed to mild steel, making the Henry Cort Millennium Project the single largest exhibition of contemporary wrought iron in the country.