Additional funding
The college receives several sources of additional "premium" funds per student either directly or indirectly from central government. They are:
Pupil premium, for students from disadvantage backgrounds.
Pupil Premium+, for students that are either looked after, or previously locked after (ie adopted).
Service Premium, for students who parents have served, or recently served in her majesties armed forces.
Catch-up premium, for all students to ensure they were not impacted by the COVID lockdowns.
Pupil Premium (PP)
The pupil premium is additional funding for schools in England intended to raise the attainment of disadvantaged students who are or have been in receipt of Free School Meals (FSM) within the last 6 years. It is intended to be spent closing the attainment gap between them and their peers.
"It is for schools to decide how the Pupil Premium, allocated to schools per FSM pupil, is spent, since they are best placed to assess what additional provision should be made for the individual students within their responsibility." Source - DfE website
Pupil Premium Statement
The college has a statutory responsibility to provide an annual statement of how this money is spent.
What will success look like?
We have high aspirations for our students and believe that no child should be left behind. We are determined to ensure that Henry Cort students are given every chance to realise their full potential. It is not about where you come from, but your passion, thirst for knowledge and your dedication and commitment to learning that should make the difference.
The Pupil Premium (PP) funding, along with further allocations made from the college's own budget will be spent on programmes to reduce and hopefully eliminate barriers to learning caused by disadvantaged backgrounds. To achieve equal academic progress for all our pupil premium students when compared to their non-disadvantaged peers the college monitors and strives to achieve the following: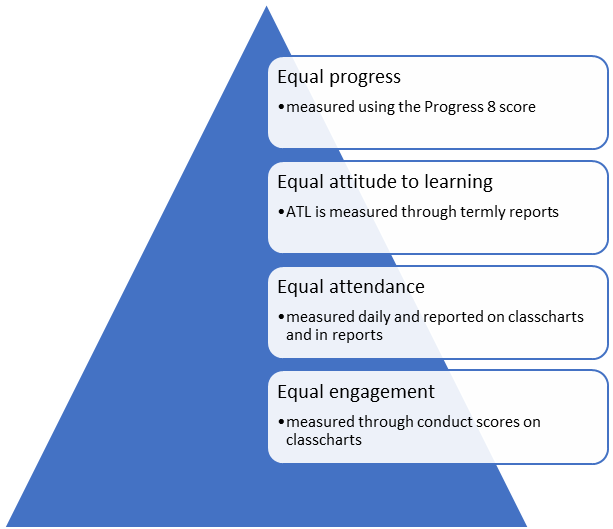 How do we spend the premium on?
Our pupil premium money has been used to fund bespoke intervention and employ staff to support our student's needs. Each year we review funding and its impact using the Education Endowment Foundation (EEF) PP guide as a framework (https://educationendowmentfoundation.org.uk/evidence-summaries/pupil-premium-guide/

). We use the money in a variety of different ways to ensure that every student makes at least their expected level of progress, if not more. This includes:
Additional staff to recognise when a student has an issue and to provide the help and guidance needed to overcome the issue such as small group work and 1:1 support. This may also include additional teachers in maths and English and the purchasing of additional intervention schemes.
The provision of essential equipment to ensure full access to the curriculum. This includes a hardship fund to support with items such as uniforms.
Training of staff to identify and meet the needs of all students.
Financial assistance with curriculum trips and extracurricular activities that add cultural capital, such as music lessons.
A greater focus on communications between the college and parents/carers to help parents work with us and to increase attendance.
Summer intervention and additional events to improve the transition process from Primary to Secondary and onto Tertiary education.
Further, planned intervention for the coming academic year will also focus on:
Online safety and support training for parents
Subsidised employment of academic tutors to support with catch up curriculum
Life coaching/book camps
How much money does the college receive?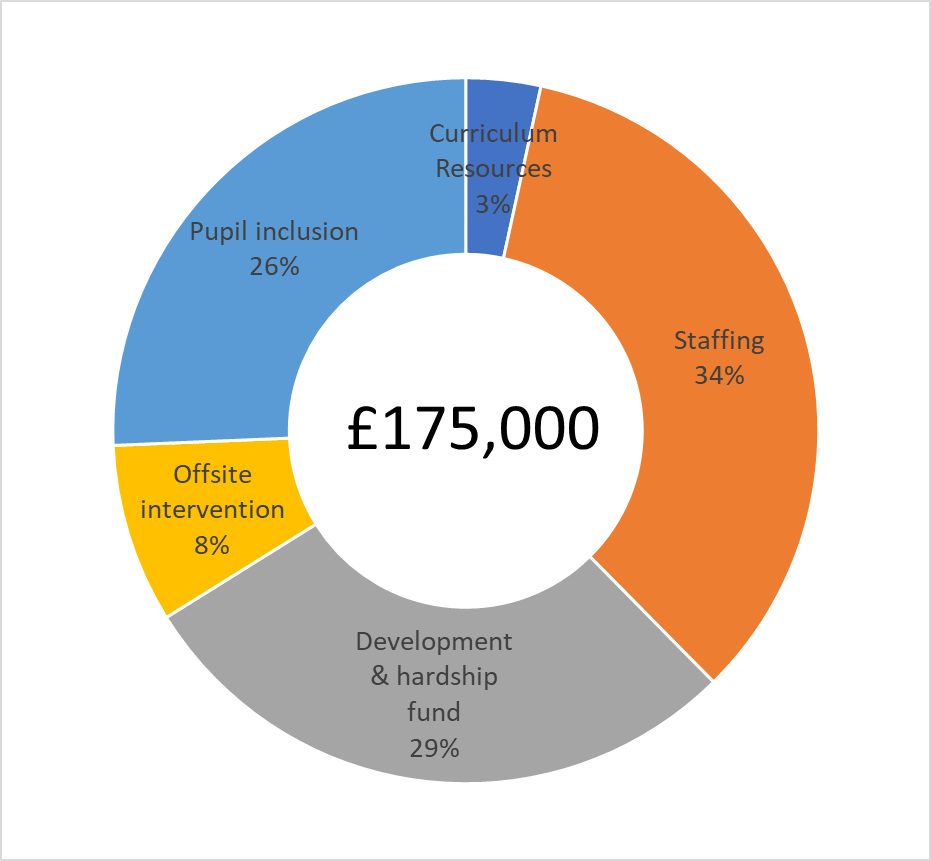 The college gets £955 per student. The current financial year's projected budget is detailed below. Please note that this amount will fluctuate over the course of the year as different students join the college or come off roll. The budget is provisionally split into the following key areas:
How does the school measure attainment and progress?
At Henry Cort we use two different assessment models to judge each student's level of attainment depending on their age, whether they are PP on not.
At Key Stage 3 we do not use grades but instead match age related expectations for knowledge, skills and understanding to four broad categories of attainment. These are known as; Emerging, Developing, Secure or Mastery. To measure progress against these four categories we need a starting point. Where they are available, we use Key Stage 2 entry profiles based on students SATs result. These are categorised as either Low, Middle or High. However, due to COVID, there have been several years when SATs have not been done. In these years we have used Cognitive Ability Tests (CATs) to measure a baseline of ability at the start of Year 7. Either of these systems, CATs or SATs are then used to set academic expectations.
When a student starts Key Stage 4 in Year 9 their attainment is measured using the grade sets of each of the qualifications they are studying, typically grades 1 through 9. To measure progress each student is also provided with a specific and ambitious academic target, known as a minimum expected grade. This too is based on prior attainment at KS2 and is generated using Fischer Family Trust (FFT).
For further information please see their website https://fft.org.uk/fft/target-setting/

and YouTube channel

.
How is this monitored?
Progress monitoring happens at many different levels within the College. Initially the teacher and SEND staff in the classroom are responsible for conducting formative assessment and providing targeted support. Heads of Faculty and House Progress Leaders review progress data in fortnightly strategy meetings, and will specifically focus on attainment of specific cohorts of students including PP and SEN. Further academic interventions are then planned and acted upon. Student progress and the impact of interventions is then monitored by the college's Senior Leadership Team (SLT) in termly reviews after each data drop (approximately every 13 weeks) and by a nominated governor. For current staffing see below:
Transition Manager: Mrs S Connochie
Senior Leader assigned to oversee: Mr T Mitchell
Nominated Governor: Ms Jenny Nutt
Is my child eligible for Pupil Premium?
A parent may wish to check their child's eligibility for Pupil Premium by using the Hampshire Country County online system: www.cloudforedu.org.uk/ofsm/hants/

. Parents or eligible carers will need to enter a name, address, national insurance number or asylum support service number. In addition to the child's name, date of birth and identify the school they are attending.
Parents/carers in England do not have to pay for school meals if they receive any of the following:
Income Support
Income-based Jobseeker's Allowance
Income-related Employment and Support Allowance
Support under Part VI of the Immigration and Asylum Act 1999
The guaranteed element of Pension Credit
Child Tax Credit (provided you're not also entitled to Working Tax Credit and have an annual gross income of no more than £16,190)
Working Tax Credit run-on - paid for 4 weeks after you stop qualifying for Working Tax Credit
Universal Credit - if you apply on or after 1 April 2018 your household income must be less than £7,400 a year (after tax and not including any benefits you get)
Pupil Premium is an important payment for schools and an excellent opportunity for eligible parents to get more support for their children in schools. For more information about free school meals in Hampshire please contact HC3S on 023 8062 9388. Or if parents have any questions or would like to know more about PP funding and how it is being used to benefit students, please speak to the Transition Coordinator who has specific responsibility for PP.
Please note that even if a parent does not want their child to eat free school meals, but qualify, please contact us regardless. As every child who is eligible generates valuable income for the college to help them achieve.
Pupil Premium+
Pupil Premium Plus is available to students from reception age to Year 11 in state-funded education in England who:
Are in local authority care in England
Have been adopted from care in England or Wales
Left care under a Special Guardianship Order (SGO)
Left care under a Child Arrangements Order (formerly known as a Residence Order)
The college receives up to £2,300 per student. However, a proportion of this money is typically directed towards funding Hampshire County Councils virtual schools programme: www.hants.gov.uk/educationandlearning/virtual-school

, please visit their site for further details. Remaining money is invested into bespoke support identified in students Education Plan for Adopted Children (EPAC). Along with Personal Education Plans (PEPS) for Looked After Children (LAC).
Service Pupil Premium (SPP)
The Service Pupil Premium (SPP) is provided by the Department for Education to enable schools to offer additional, mainly pastoral support, during challenging times linked to parents' service. This could include anything from a family being regularly moved above, a parent being on active deployment, being injured or bereavement.
At Henry Cort we invest this money into the student support teams.
We also employ a Wellbeing Manager who has run various outreach projects which includes SPP students. Many of these programmes were not possible due to COVID lockdowns, but we continue to liaise with the Fareham Service Family Support network and intend to run future projects when available.
Is my child eligible for SSP?
Students attract SPP if they meet one of the following criteria:
One of their parents is serving in the regular armed forces (including students with a parent who is on full commitment as part of the full time reserve service)
They have been registered as a 'service child' on a school census since 2016, see note on the DfE's ever 6 service child measure
One of their parents died whilst serving in the armed forces and the student receives a pension under the Armed Forces Compensation Scheme or the War Pensions Scheme
Schools with Service children are eligible to receive SPP, but only if the child's name appears on the school roll as being a service child. The annual census takes place in the Autumn and children must be registered with the school before this date. Service parents are encouraged to contact the college to make us aware their child comes from a service family background.
For more information on eligibility, please see the link below:
Catch-up premium
Due to the impact the COVID -19 pandemic has had on students learning, the Government has made several sources of funding available to schools to try and eliminate the deficit that successive lockdowns have created in students learning.
The college receives some direct funding £80.00 per student to address the gaps in learning. In addition, there are matched funded sources the college can apply for as part of the National tutoring programme, unfortunately in the 2020/21 academic year we did not qualify for mentors in conjunction with Teach First. We are expecting funds to be able to employ numeracy and literacy intervention staff for the 2021/22 academic year.
All subjects have audited the gaps in students learning and have been allocated funds to address these. For example, students have not had the opportunity to study drama in key stage 3 and this has impacted on their confidence to speak publicly and also interact with other students. We have planned physical theatre workshops using outside companies to address this. Students studying Modern Foreign Languages (MFL) have not had sufficient practice with spoken languages because of the lockdowns, and we are employing language assistants to help students practice speaking in French, German and Spanish. In practical subjects such as science, there will be a clear emphasis on practical laboratory work to develop the practical skills that students were not able to gain during lockdowns. This has required additional laboratory equipment to give students the chance of more hand on work. There is a clear focus on building the cultural capital through students' experiences to deepen their understanding of subjects rather than just address gaps through academic study.
Summer School
The college applied for funding to deliver a week-long programme to all 180 year 6 students to aid their transition. There was a clear focus on ensuring that students who required literacy intervention (identified by the primary schools) received it. We identified that the arts and humanities subjects had not been sufficiently addressed in all our feeder schools post lockdown, and we focused on ensuring that all students covered the knowledge required to start secondary school in all subject areas.
Year 7 Catch-Up premium
Year 7 Catch up premium £13,425 in 2019/20 was used to fund a Literacy TA to work with students who arrived at secondary school below age related expectations in English and Maths. The greatest barrier to these students achieving is their grasp of the English language and the college decided to focus on this area as it has the greatest impact across all subjects. Outcomes for this programme showed that students made significant gains in their literacy skills as a result of the intervention programmes.
UPDATED: 12 September 2022