College Expectations
There are six non-negotiable behaviour expectations. Students must:
Arrive to lessons on time and properly dressed - Students should arrive in college in plenty of time to get to tutor by 8:25am. Gates will be locked at 8:25, detentions will be issued for students who are late. Students who are repeatedly late may trigger a county penalty fine. After 8:25am you must sign in at reception.
Have the right equipment for the lesson - Pen x 2 (black), pencil, eraser, sharpener, ruler, geometry set, calculator, exercise book and student planner.
Follow the seating plan set for your class.
Use appropriate language - no swearing, racist or homophobic comments.
Do not speak while your teacher or peers are talking.
Respect other students' right to learn - do not disrupt or distract.
These are displayed in all classrooms around the college.
Under no circumstances should students bring the following items onto the college site:
No items that distracts learning - fidget spinners.
Knives or weapons; or anything that could potentially be used as a weapon or a risk to the health and safety of students.
Illegal drugs and paraphernalia - all medicines should be stored in the first aid room.
Alcohol.
Tobacco, cigarette papers, filters, lighters, matches, e-cigarettes or any other smoking paraphernalia.
Students are banned from using the following items on the college site:

No mobile phones, MP3 players and similar electronic devices - if they are used at any time they will be confiscated and we may ask parents to collect them. All students can have access to a telephone in an emergency via student reception after college hours. Any messages for a student will always be passed on by reception at the earliest possible opportunity.
If a mobile or similar electronic device is confiscated they are logged and kept safe in Student Reception: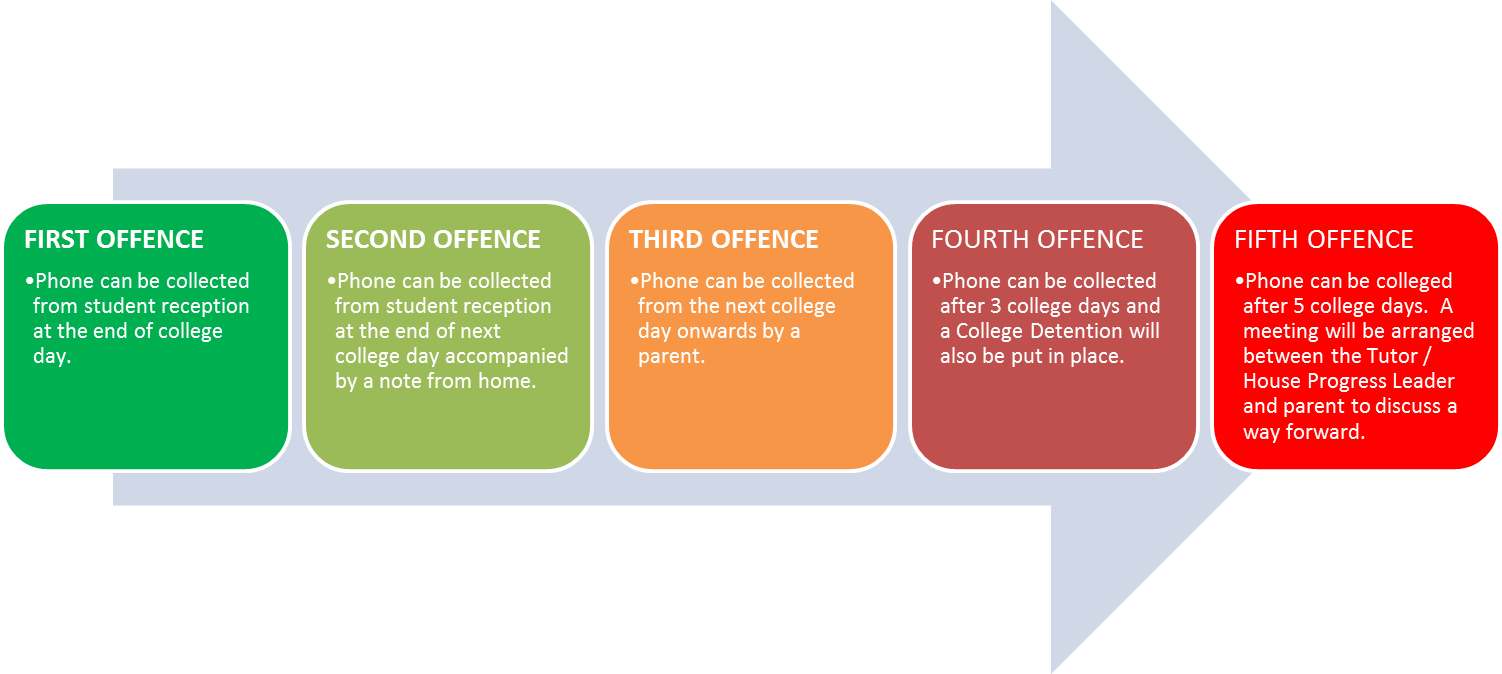 On first offence phone can be collected from student reception at the end of college day;
On second offence phone can be collected from student reception at the end of next college day accompanied by a note from home;
On third offence phone can be collected from the next college day onwards by a parent;
On fouth offence phone can be collected after 3 college days and a College Detention will also be put in place;
On fifth offence phone can be colleged after 5 college days. A meeting will be arranged between the Tutor / House Progress Leader and parent to discuss a way forward.
Please note that Saturday and Sunday do not count as working days. Therefore, for example, if the phone is confiscated for the second time on a Friday, it will not be returned until Monday after college day.
Page updated: 30 November 2017