Year 11 student becomes first ever winner of the Heritage Honours Award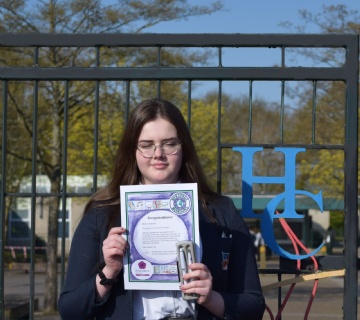 Moving to another country, speaking a new language and learning to live in another culture always seems so daunting. At The Henry Cort Community College we are always proud of the way our EAL (English as an Additional Language) students settle in and achieve success during their time with us but one student, Melania, has surpassed all our expectation and been awarded the first ever Heritage Honours Award.
This award, an initiative of the Ethic Minority and Traveller Achievement Service (EMTAS) is designed to celebrate the significant linguistic, cultural and religious achievements of children and young people that, for whatever reason, are not ordinarily recognised by schools. These achievements may have happened during the school day but equally may have occurred within the wider community, outside of schools' normal working hours.
During her short time here, Melania has not only achieved a grade 9 in her Russian GCSE and a grade 6 in her Citizenship exam but has also supported EMTAS with promoting their online learning programme, provided mentoring support for her peers and guided the EAL provision at The Henry Cort Community College.
Chris Pim, EMTAS' District Co-ordinator for the area, congratulated Melania for her achievements and for being the first ever recipient of this award. Chris presented Melania with her certificate and engraved pens.
Ms Cubbage, Principal, said: "I am extremely proud of Melania, she is a model student who has strived hard, not only with her own studies but has willingly given support to others. She thoroughly deserves this award, and I'm delighted that she is the inaugural winner"
ASPIRE
Achievement * Support * Perseverance * Individuality * Respect * Excellence