A win for Year 10 debating team at Youth Speaks in council chambers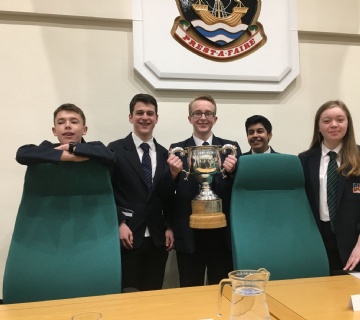 A Year 10 student debating team won the first round of the Rotary Club's Youth Speaks Senior category yesterday evening, held in the council chambers at Fareham Civic Offices.
The Henry Cort Community College took two teams to the Youth Speaks competition on Monday 20 January 2020. Youth Speaks is an opportunity for young people to develop the ability to speak on a public platform, carry out research and formulate ideas, improve self-confidence and presentation skills and work as a team. Schools, colleges, youth groups and rotary clubs all work together to promote the talents of young people.
The winning team included a last minute substitution of Ryan Ojla, who stepped up to replace the Chairperson due to unforeseen circumstances just hours before the competition, alongside Billy Campbell as proposer and Ryan Badger as opposer. In the judge's summation, Mr John Landlaw commended the team "as the best he has seen in twelve years of judging the competition". The team has been beset with challenges, making their performance all the more impressive as they debated the motion "This house believes the voting age should be lowered to 16".
A special mention should also go to Henry Cort's second team for taking joint second place alongside Boundary Oak School. They debated the motion "This house believes the NHS should never be privatised" and Ryan Ojla stood as proposer for this team alongside confident performances from Lilli Andrews and James Lapworth. Ryan Ojla was outstanding on the night with his contribution to both teams.
Ms Ferrier, Head of Communications Faculty, said "I am exceptionally proud of them all and I look forward to seeing the winning team compete in the next round in February."
Ms Claudia Cubbage, Principal, said: "I am delighted to see our students perform in events such as this, they have done themselves, and the college, proud ."