Year 10 student standing in Youth Parliament elections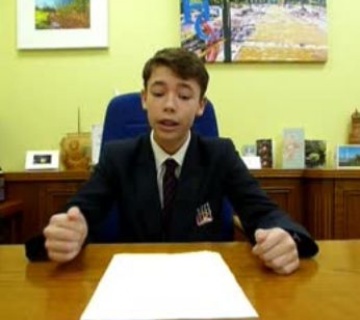 We are proud to announce Year 10 student, William Campbell is one of two students in the South East Hampshire area to stand for election with votes closing on Friday 31 January 2020.
Local schools have been invited to register their students to vote.
UK Youth Parliament has been campaigning to bring about social change since 1999. Each year, following the Make Your Mark ballot and a vote by Members of Youth Parliament (MYP) in the House of Commons, we set about campaigning on the most important issues for young people. The UK Youth Parliament has over 364 representatives, all aged 11-18. Members are usually elected in annual youth elections throughout the UK. Any young person aged 11-18 can stand or vote. In the past two years one million young people have voted in UK Youth Parliament elections.
Once elected MYPs organise events and projects, run campaigns and influence decision makers on the issues which matter most to young people. All MYPs have the opportunity to meet once a year at the UK Youth Parliament Annual Sitting.
As part of his campaign, William has produced a short video (see below), please take the time to watch before casting your vote.
ASPIRE
ACHIEVEMENT * SUPPORT * PERSEVERANCE * INDIVIDUALITY * RESPECT * EXCELLENCE