Students spread festive cheer for our local Senior Citizen's this Christmas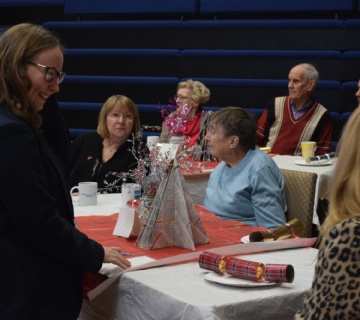 We have been hosting a Senior Citizen's Christmas Party for residents in local care homes for the last 30 years. This year our Student Voice wanted to do something different by giving our students the opportunity to invite a senior citizen of their choice to attend on Wednesday 18 December 2019.
We invited senior citizens back to school to celebrate Christmas with a party hosted by our students. The annual event has been held at the college since 1988.
Thirty senior citizens were entertained in the Cort Theatre for this year's knees-up. Thanks to the generous donations of gifts from parents and the local co-op stores, we were able to provide a festive tea and gifts for our guests.
Thank you very much children and staff for a wonderful Christmas tea party. We were well looked after and entertained by some very talented and funny children. WELL DONE.